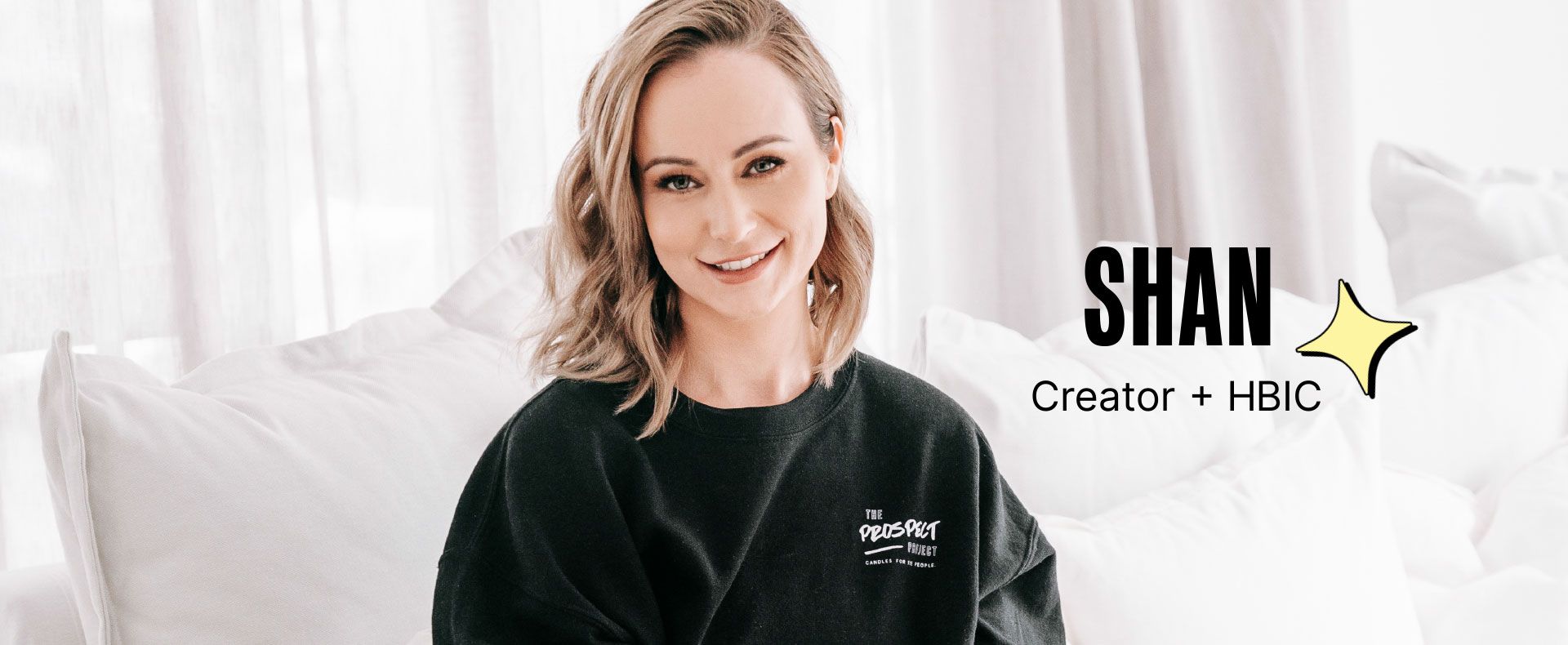 Hey Guys!
I'm Shan, Creator + HBIC (that's Head-Bitch-In-Charge FYI) to The Prospect Project.
What is now a Socially Conscious Candle Co and Pour Your Own Candle University here in Osborne Park, Perth actually started out as a granola business in a 115 year old kitchen in West Perth seven years ago. What was supposed to just be a "thing on the side" where co-workers at my corporate job at the time wanted to buy some of my homemade granola and I wanted to donate the money to charity slowly evolved in to an online store, wholesale cafe clients and a small but loyal Instagram following.
The candle making was just a thing my bestie Lisa and I would do once a month, taking turns at each others houses, saving up our recycled pesto and salsa jars and turning them into candles to burn at home ourselves. When I gifted one of the cafes that stocked my granola a candle with a custom "THIS CANDLE SMELLS LIKE" label (in the very same style that you see to this day) they asked if I sold candles too, and being the accidental entrepreneur I am said "You betcha!"
Fast forward seven years, 70,000 candles and $55,000 in donations to not for profit causes later, The Prospect Project makes the world's best candles (in our humble opinion), have been stocked in MYER stores nationwide for 4 consecutive years, have featured on the cover of The West Australian Today lift out and have our very own 100 square metres of pastel and neon workshop where people can come and create their very own bespoke candles and fragrances, all while still doing good and giving back to charity.
I now get to live out my childhood dream of being a philanthropist. Also, candles were banned in my house growing up cos my brother and I would line up all our candles, light 'em up and take turns running past and tackling each other and see who could blow out the most. Kind of like Gladiator meets Backdraft. The fact that I now run a candle business? The irony isn't lost on me, I promise.
Who run the world? GIRLS!
We value community over competition. Heart over hustle. People over profit.
That's why we're proud to work with some of the best in the biz today. None of this would be possible without the assistance of these incredible female-owned businesses we collaborate with:
WHAT IT'S LIKE WORKING WITH TPP