Pour-Your-Own Candle Workshops @ TPP HQ Perth
If you've ever wanted to create your own custom candle from scratch – we're talking selecting from over 100 different kinds of vessels and over 50 different fragrances – then step inside our brand-spankin'-new Perth studio, take a peek behind the curtain, and see where the magic is made!
TPP University's Learn 'n Burn Masterclass is now in session!
Think: Build-a-Bear, but for candles. And waaaaay cooler. Cos no one wants to see your sh*tty canvas art.
In this fun-AF-filled session, you'll discover the tricks of the trade and learn to pour your very own custom candle at The Prospect Project's Osborne Park HQ. We'll be there to hold your hand and walk you through the process from start to finish, and answer all your burning questions like, "How do you know how much fragrance to add?" and "How the hell do you come up with your crazy candle flavours?".
Whether you're riding solo and looking to scratch your creative itch – or searching for something fun to do with a group (birthday, hens, baby shower, corporate team activity) – Learn 'n Burn is the perfect experience for anyone who likes a side of LOLs with their art.
And, the added bonus? All excess wax will be poured into mini jars and donated to various not-for-profit causes. That's right; your contribution to doing good in the world will extend beyond your donation to your chosen cause – hooray!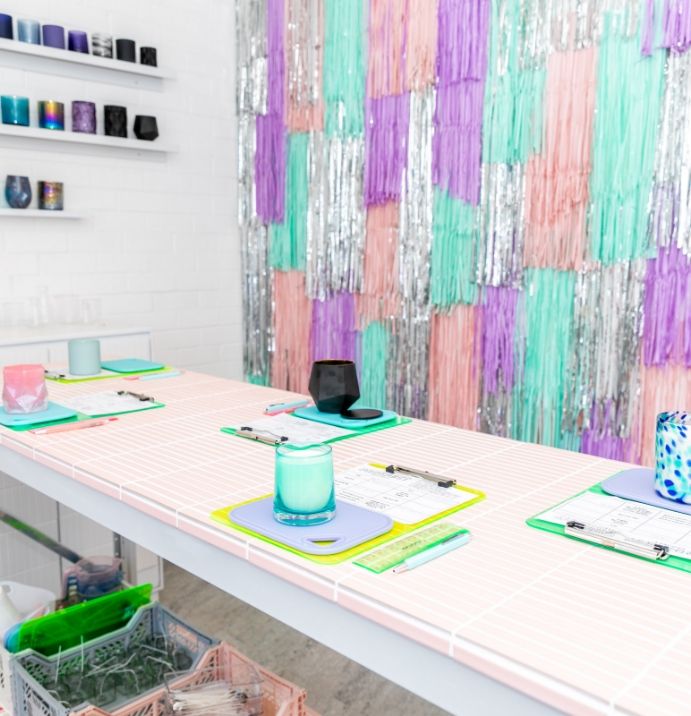 Here's the Lowdown On Our Classes:
$70 Deluxe Class includes:
1 hour of fun and creativity in our newly-designed pouring studio
Your choice of candle vessel from 150 options (upgrade to larger vessels for a small fee)
Your choice of fragrance from over 60 different flavours
All materials and equipment needed to make your very own custom TPP candle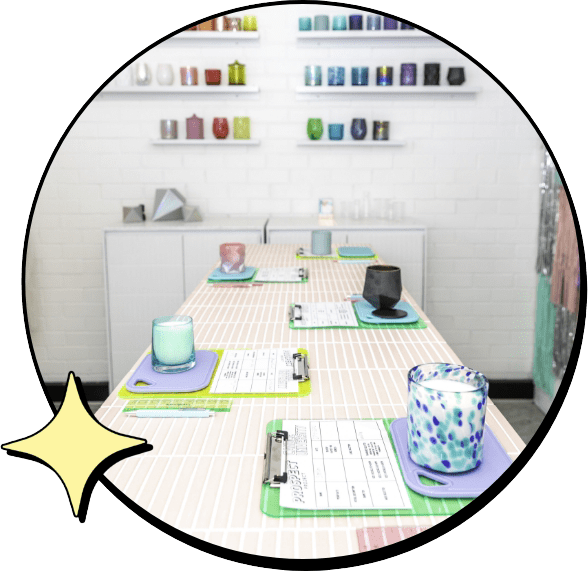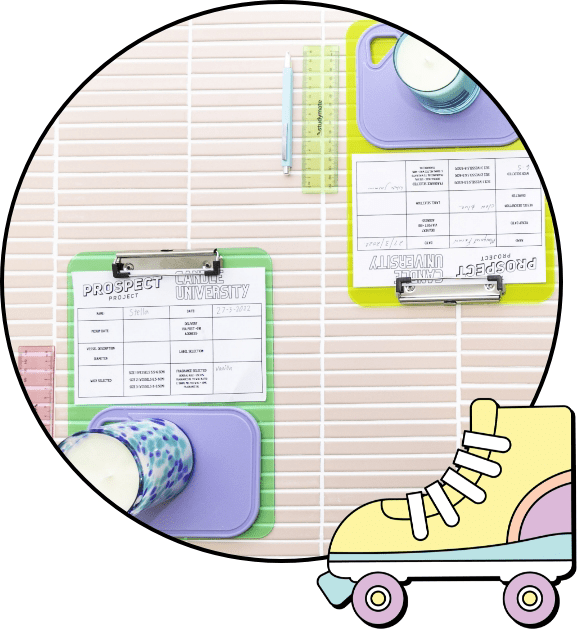 $100 Cocktails
+ Candles includes:
90mins-2 hours of fun and creativity in our newly-designed pouring studio
2 cocktails, one on arrival and another during the session
Nibble
Fun AF evening with your friends
Your choice of candle vessel from 150 options (upgrade to larger vessels for a small fee)
Your choice of fragrance from over 60 different flavours
All materials and equipment needed to make your very own custom TPP candle
What's the small print?
See our T&Cs (further down the page) for more info. Don't @ us if you don't read 'em.
Select your date and time from the options below to secure your spot A$AP(Rocky)
Looking to secure more than 6 tickets? Email us here to book 'em in and maybe even
get a cheeky discount.
THE SMALL PRINT
(Otherwise known as the Events Terms and Conditions)
Can I change my booking?
Oh, you've got that itch for a little scheduling dance, don't you? Sh*t happens, and so does life, so fear not, master of booking shuffles! 
We've got you covered – we offer one epic change of date/time up to 1 week prior to your scheduled class.
Now, we must warn you, this rescheduling extravaganza is dependent on availability – it's like trying to fit a whole box of cheezels into your gob in one sitting: difficult, but not impossible.
Don't fret though – we'll work our magic to find the perfect spot for you, just like fitting the last piece in a puzzle.
So, if you're itching to change your booking, just slide on in to our inbox and we will do what we can to make it happen.
What's your cancellation policy?
Bookings are non-refundable and final (#SorryNotSorry).
Cancellations must be submitted to us via email at least 24 hours prior.
While we *totally* get that shit happens and plans change, we also ask that you be mindful that we're a small studio offering limited spaces in intimate classes, so we may not be able to fill your seat with such short notice.
We're all about being understanding and flexible, so we offer one magical change of date and time up until 1 week prior to your scheduled class.
Now, we do have a tiny little rule – if there've been more twists and turns in the date/time than a thrilling roller coaster ride or last-minute cancellations that make our heads spin, we won't be able to offer a refund or reschedule/credit. It's like that one time we tried ice skating – things got a bit wobbly! 
So, remember, open communication is the key! We're here to work our magic and make your candle making and perfume making dreams come true.If you do need to cancel (up to 24 hours prior to your scheduled class) , you may choose between rescheduling your session to another available date or being issued a store credit to purchase items from our online store.
Can't make it but know someone who can? You're more than welcome to send a friend in your place. Just advise us (as per above) and let us know your friend's details.
What if I'm late?
Let me set the scene: there's a fabulous bunch of up to 16 other people in the class, all on their own unique schedules, and you're breezing through the doors 15 minutes late, all eyes are on you and now you're flustered and just trying to catch up. Not our idea of a good time. So, to keep the creativity flowing we recommend allowing plenty of time for traffic, parking, ducks crossing and any other cosmic surprises!
Arriving on time is like scoring a bullseye – it's simply perfect! But hey, we won't hold it against you if you arrive even 10 minutes early – that's dedication! 
Now, here's the scoop – we'll kick off formal proceedings at 10 minutes past the start time. That's right, we like to keep things as smooth as our well-crafted fragrance oils!  But, if you find yourself running a little late, no worries! Just know that arriving late means cutting your own fabulous time short – nobody wants that, right?
And to make sure everyone has the chance to dive into the candle and perfume magic, if you arrive more than 30 minutes late, we'll have to treat your booking as a no-show. See you soon, punctual genius!
SESSION TIMINGS
Sessions run between 60 – 120 minutes, depending on the number of participants and how much gossiping we do.
We recommend arriving 10 minutes early to ensure you get a car park, settle in, and be ready to go when the session commences. Trust us; you wanna be chill for this!
What if I am sick?
Ah, the dreaded sniffles and sneezes – we've all been there!  But hey, in these COVID times, we're all about safety first and being good memberinos of the community! 
If you find yourself under the weather and feeling like a melting candle (not the good kind), we appreciate your honesty and doing the right thing by us and everyone else!  So, if you're not feeling your best, it's all good – just let us know ASAP via email (not Instagram or Facebook, because those platforms can be as unpredictable as a sneeze and a fart at the same time). 
We're like scent superheroes, ready to save the day and reschedule your class so you don't miss out on all the aromatic fun!  Because hey, a sniffly nose and creating fragrance magic don't exactly go hand in hand.
So, put on your cozy PJs, brew yourself a cup of soothing tea, and give us a holler. We'll be here to sprinkle some rescheduling fairy dust and make sure you get to create your candle and perfume masterpieces when you're feeling like a million bucks again! 
SAFETY & LIABILITY
We're all about having fun, and we want your candle making experience to be nothing short of euphoric. However, there are risks when working with hot wax, and we accept no liability for anyone acting recklessly or irresponsibly in any way that may cause harm to themselves, other participants, or our staff.
The Prospect Project and its employees are not liable or responsible for any accidental injury to participants or any loss or damage to personal possessions.
While we're big fans of the kiddos, we don't allow children under 15 years old to participate. Trust us; kids + hot wax + a few wines = not a fun time.
PHOTOGRAPHY/VIDEO
The Prospect Project reserves the right to take photographs and video footage during pouring sessions that may include participants and use these photographs and video footage for advertising across all media forms, in perpetuity, and without payment to students.
THE FINISHED PRODUCT
Your candle might have a few lumps, bumps, and dimples – but hey, who doesn't? We've perfected our craft over many years to bring you the best candles in the world (#SitDownBeHumble). Therefore, you shouldn't expect yours to be as flawless as ours (but that's all part of the experience!)
Dimples, bubbles, holes, etc., in the surface of your candle may occur due to variables, but trust us; after burning it for the first time, these will melt away, and your candle will still smell and burn normally.
We have a strict TWO WEEK storage policy of all finished work waiting to be collected. Any candles that aren't collected (or have postage arranged) within this time frame will be donated to an NFP of our choice.
AGREEMENT
It's the responsibility of all participants to read, understand, and adhere to these terms and conditions.
For group bookings, it's the responsibility of the person making the booking to inform other participants of our terms and conditions.